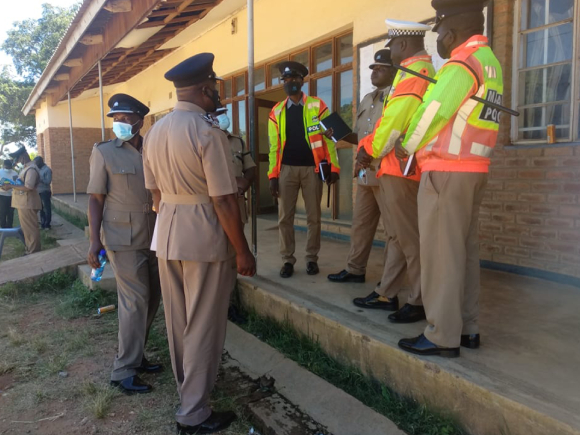 Spotlight Initiative Intervention Leads to Arrest of Suspected Nkhatabay Defilers
Police in the Northern Region has confirmed the arrest of two men suspected to have defiled minors at different times around Mzenga in Traditional Authority Kabunduli in Nkhatabay Districts.
The two arrested are reported to be among the four suspects who were seen enjoying their freedom despite being reported to the police.
Northern Region Deputy Police Publicist Maurice Chapola confirmed the arrests of the two suspects and said they are now hunting for the remaining two.
"Good news is that police have now effected arrests on the two suspected to have defiled the minors and we are now hunting for the other two who are still on the run but are putting much effort to arrest whoever committed such type of cases," Chapola said.
Child Protection Officer for Kabunduli catchment Area, Jessie Chiuza reported the matter on Friday during her presentation on issues of Gender-Based Violence and early marriages at a stakeholders meeting aimed at formulating an action plan and implementation of bylaws on the same conducted by Purple Innovation for Women and Girls in Nkhata-bay district.
Chiuza said it is sad that despite the Community reporting the matter to Police, no arrests were effected on those suspected to have committed defilement cases.
"We reported the incidents to Police but surprisingly no action was taken, the health personnel also conducted their tests and confirmed that indeed the four gentlemen had canal knowledge with the minors, so we are becoming frustrated to consult our police when such occurrences happen," Chiuza said.
In her remarks during the meeting, Project Officer for Purple Innovation for Women and Girls Linessie Kwata emphasized the need for stiffer by-laws on child protection in the area which will also help community members to report any incident of GBV or child marriages which seems to be rampant in the area.
Purple Innovation for Women and Girls is implementing a two-year Wukani End Violence Against Women and Girls under the District Gender Technical Support Network with funding from the Women's Peace and Humanitarian Fund and Spotlight Initiative, through UN Women Malawi.
Source: https://malawifreedomnetwork.com/spotlight-initiative-intervention-leads-to-arrest-of-suspected-nkhatabay-defilers/