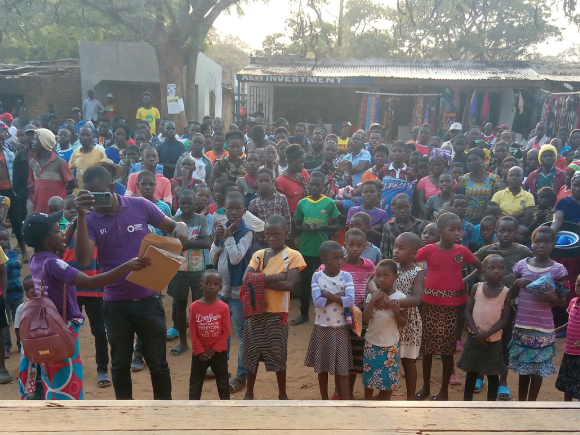 6 Defilement Suspects Roaming Freely Around Euthini in Mzimba
Written by Vanani Nyirenda
Officers at Euthini police unit in Mzimba have come under fire from the community for thwarting the fight against gender-based violence as they are failing to arrest defilement suspects while releasing others on dubious police bails.
Speaking on the sidelines of a mobile campaign, to end gender-based violence in the district organized by a local NGO, Purple Innovations on Wednesday, Washington Phiri who is a child protection worker in the area told us that 6 defilement suspects who committed the crime in August this year alone are walking Scot free, while the police claim they don't have transport for them to effect arrests.
Purple Innovations campaigning against GBV in the area of Inkosi Chindi.
Phiri said, this is a major setback in the fight against gender-based violence being orchestrated by various stakeholders like Purple Innovations for Women and Girls under the banner of the spotlight initiative.
"We have documented 6 cases of defilement in the month of August alone. And the suspects are walking as free men when the cases were reported to the police."
Sometimes we arrest a defilement suspect and within days we see him roaming freely in the society. This is demotivating and when we ask the police they say they don't have transport to effect suspects", said Phiri.
He said they are concerned with failure by the police to arrest a 25-year-old man who defiled a 3 and 11 months girl who had to be referred to Mzimba district hospital for further treatment as her private parts were torn
"We are appealing to officers at Mzimba police or police headquarters to intervene and transfer some of these officers who have overstayed in this area", said Phiri.
Chindi Area Development Committee chairperson, Malaulira Chibaka concurred with Phiri saying the conduct of Euthini police unit officers is questionable and leaves a lot to be desired.
"One wonders why the police fail to act when we report defilement suspects and when they do make arrests they release the suspects on bail barely days after being arrested", said Chibaka
Mzimba police officer in – charge Stain Chaima confirmed being bombarded with such concerns from communities around Euthini but said as the police they are investigating the matter to ascertain the allegations.
"We are aware of such concerns, but we will conduct our investigations to establish the truth about the allegations", said Chaima.
Meanwhile, a non-governmental organization – Purple Innovations for Women and Girls which is implementing a spotlight initiative project in the area dubbed, 'Wukani End Violence Against Women and Girls' with funding from UN women is also concerned with the conduct of the police.
Purple Innovations for Women and Girls project officer, Liness Kwata said they will facilitate an interface with the police, the community, and other stakeholders to discuss the allegations leveled against the men in uniform.
"We will ensure that we conduct an interface discussion between the police and members of the community so that the police should clear out people's concerns because we believe if they can discuss they can come up with the best solution."
Kwata said as Purple Innovations they are going to discuss with other organizations working on spotlight initiative program so that they should brainstorm on how they can deal with allegations being leveled against police officers at Euthini police unit.
Purple Innovations for Women and Girls is implementing a project dubbed 'Wukani end violence against women and girls under the spotlight initiative with funding from UN Women in Mzimba and Nkhata bay districts.